BLOG
2020.02.14 update
Isuzu Forward: How to read the model code
Have you already checked our blog post about ISUZU ELF? If you haven't yet, please check it out!! You will be able to know about ELF.
Blog: All About Isuzu Elf Trucks!
https://yamada-co.jp/en/blog/detail/115
And today, it's Isuzu Forward time!
Isuzu フォワード write "forward" in English, in japan it means "Go forward" or "Promote". This name comes with wishes of abundant vehicle configuration" and "Development of work".

After the first model had released in 1970, Isuzu Forward has gone through several model changes and now the latest model is called fifth generation which was released in 2007. In addition, there is an extensive lineup of Forward with the loading capacity of 8 to 11 tons. Also, wing van, dry van and ref. van trucks are also sold as original finished vehicles.

The main features of Forward are that it has many common parts with their 2 tonnage brand Elf that has appeared in 2006, and that they share a common development concept.
Main model for the Forward
FRR = 4 ton capacity chassis
FSR = 6 ton capacity chassis (6 or 8 bolts)
FTR = 8 ton capacity chassis (8 bolts)
Also if the truck is 4WD, the last alphabet of the 3 letters of model code will be "S" instead of "R"; Ex. FR"S", FS"S", and FT"S". For Forward, you need to check whether it has standard or wide cabin by actual unit. If they have 2 wipers, that means standard cabins, and if they have 3 wipers, that means wide cabins (like the photo below).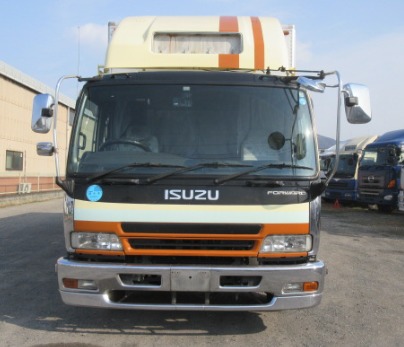 As an aside, there is NRR which is called Forward Juston. It mounts Elf cabin but on Forward chassis.
Engine models on our main stock of Forward is as follow:
32 = 6HE1
33 = 6HH1
34 = 6HK1
35 = 6HL1
90 = 4HK1
The popularity of the engine is different depend on countries.
Which engine model is popular in your country? It is also interesting to know about the difference of engine.
Then the chassis length comes too, same as Elf.
K = 18ft
J = 19ft
L = 20ft
D = Dump truck
You can find out what engine model on the truck by seeing the number after the main model cord. If the model is FRR35, it means it has 6HL1 engine in this case.
Also, if the last letter is 'S', it means that truck has no bed.
Let's check the model together then.
FRR33H
FRR…4 ton capacity chassis
33…6HH1 engine
L…20ft
This is our stock of 1999 ISUZU FORWARD Flat body
Please check the link below to get more details!
https://yamada-co.jp/en/stock/detail/27436
We get more units every day, so please check the list of our new stocks!
Also, you can add us on Facebook for frequent updates of our new coming stocks!
>>STOCK OF ISUSZU FORWARD<<
>>NEW ARRIVAL<<
LATEST ARTICLES
CATEGORY
ARCHIVES