BLOG
2019.12.13 update
What is CAR CARRIER that can carry vehicles?
Have you ever seen SELF LOADER in your town? This type of vehicle used to transport vehicles and construction machinery. And is also called "CAR CARRIER". This time, I would like to talk about "CAR CARRIER".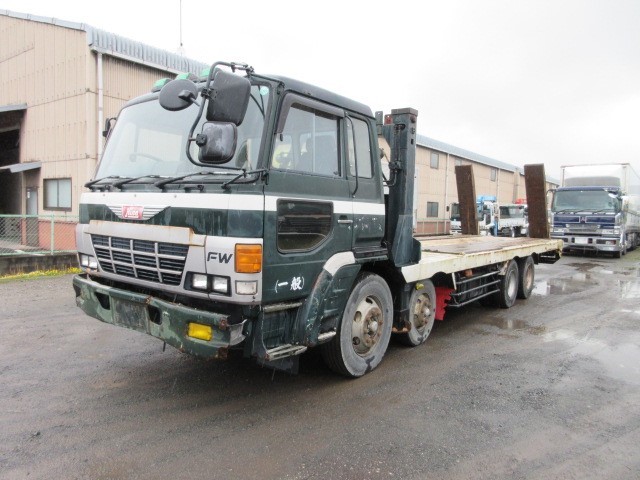 What is the function of CAR CARRIER?
CAR CARRIER is the trucks which are used to transport passenger cars and construction machinery to site. Folklift, bulldozer, and excavators for on-site work have a disadvantage that they cannot run on public roads or even if they can, it is too slow to run by themselves. A car carrier transports these construction machineries to work site safely and efficiently. Car carrier carry not only construction machinery but also trucks and passenger vehicles. Also, the feature of car carrier is that the loading platform floor is low for loading vehicles and construction machinery, and that the front of the vehicle is lifted and the rear of the loading platform is installed on the grand, or the loading platform slides.
Types of SELF LOADER
There are mainly two types of carrier trucks : HIGH JACK type and SAFETY LOADER type.
HIGH JACK type
High Jack type self loader has thick jacks between the cargo bed and cabin, behind the left and right wheels. When this high Jack is extended, the front of the truck is lifted and the rear body is inclined so that the body approaches the grand, making it easier to load a vehicle. By attaching load boards to the rear part of the loading platform, you can smoothly load and offload the vehicle to/from the self loader.

Since the main purpose is to load heavy machinery and other construction machinery, most of self loader trucks are medium to large sized trucks.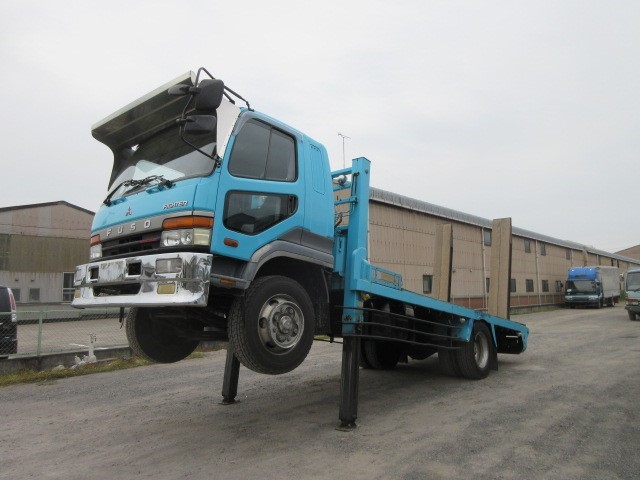 SAFETY LOADER type
The feature of the safety loader is that the front part of the vehicle is not lifted like a normal self loader, but instead of that, the cargo bed part tilts and slides. Vehicle carriers realize efficient transportation by loading passenger cars and construction machinery efficiently.
Generally, safety loader slides backwards and tilt the loading platform. And also it is common to be mounted winch in order to load vehicles which cannot be self-propelled. The name "safety" was given because only the loading platform slides with shallow angle when loading cargos, so it can be used more safely than a high jack type.

The safety loader type is also characterized by many variations in size compered to self loader type. In addition to general passenger cars, heavy equipment can be transported. However, since the safety loader type slides the entire loading platform, a relatively large space is required behind the truck. So you need to be careful when you using in limited places.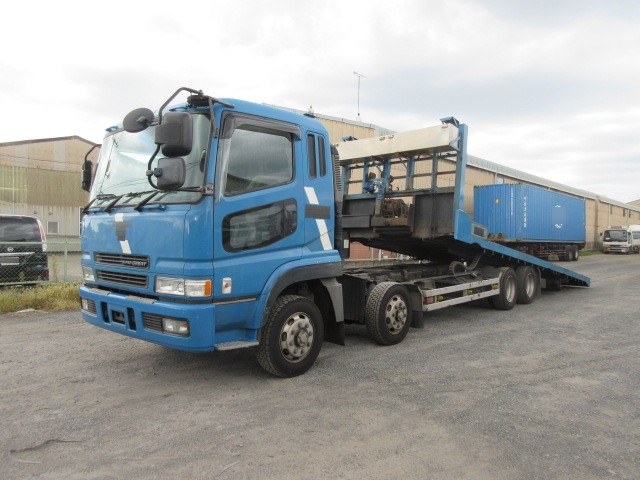 In this way, the characteristics of high jack and safety loader are different, so please consider which one to purchase depending on the size of the vehicle and construction machineries you want to carry.
If you are interested in CAR CARRIER (SELF LOADER) please visit and check our website!
https://yamada-co.jp/en/stock/?search-body=4
---------------------------------------------------------------
Japanese Used Trucks & Machinery Exporter
Yamada Sharyo Co., Ltd.
Website / Contact Us / About Us
Search Trucks / Search Machinery
---------------------------------------------------------------
LATEST ARTICLES
CATEGORY
ARCHIVES