BLOG
2020.07.10 update
Customize Your Dump Truck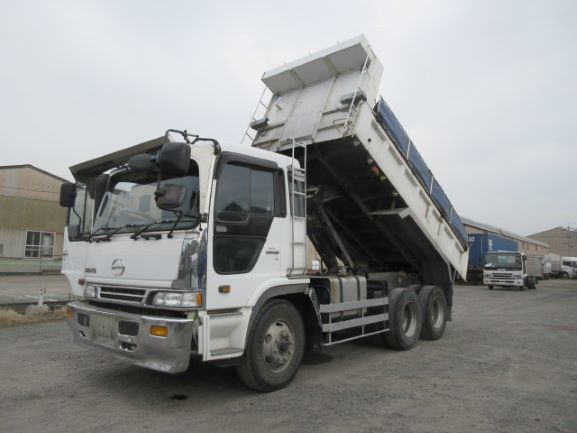 Do you have dump truck? If so, please compare your truck with other one around you.
(If you don't have a dump, please look at our dump stock list!)
https://yamada-co.jp/en/stock/?search-body=5
Is there any difference between them other than colors and size?
Maybe, iit is difficult to find one only seeing the appearance, but the interesting structures and customizations hide the dump trucks.
Let's look at some of them today!
L gate is the one of Rear Dump Gate types. Usually, when you unload the cargo on the dump. the bottom of rear gate opens, and top of the gate is fixed. If the gate is L Gate type, the top of the gate opens, and the bottom is fixed oppositely.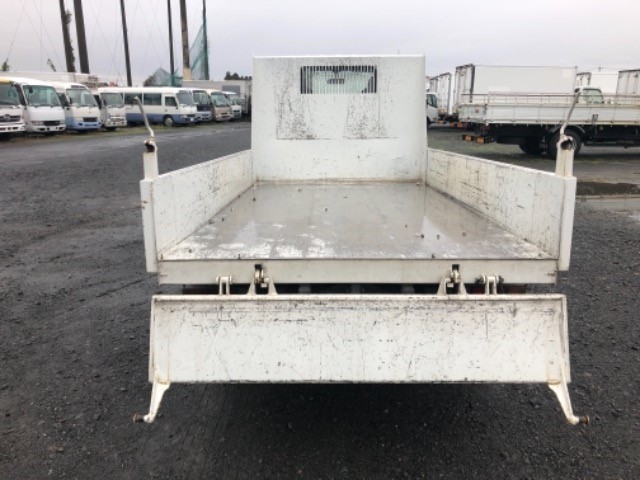 This structure is effective when you load the gravel with large rock and unload it. The cargo can be unloaded smoothly without the stone being caught at the gate.
In Japan, L Gate is getting popular among the users.
When the dump body is up, you can see the back side of the body and the dump hoist. Look at around the cylinder located to the center. You may find that dump cylinder's structure is different.
There are three types of Dump Hoist Structure made in Japan.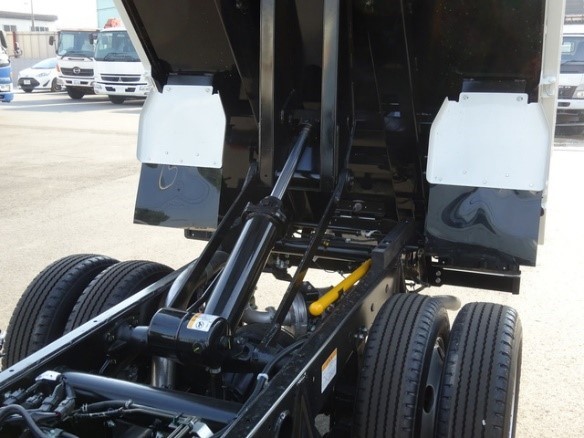 This type is adopted to the first dump truck made in Japan in 1949. "Gar Wood" is the company name of the dump manufacture brand in the U.S., so this type is called as "Gar Wood Type".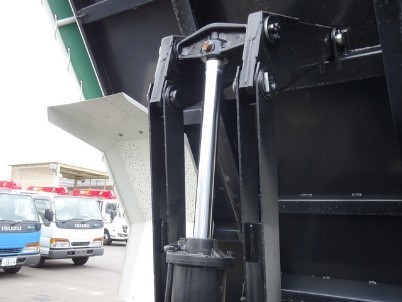 Most of dumps adopted this type. The vessel (the back side of the body) is pushed up by the force of the cylinder indirectly.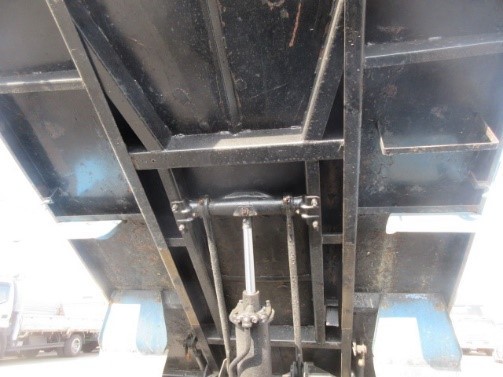 ShinMaywa manufactures TENTSUKI by using this structure type. This is called because when dump is up, it looks like the Hoist cylinder is pushing up to the sky (TEN called in Japan).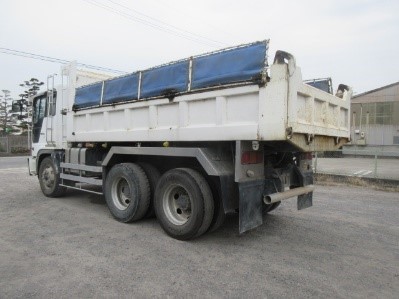 Most of 10 Ton dump has this Kobo-Lane. (In picture, the blue thing is called as it.) This is to prevent from the cargo like gravel spills out to outside of the dump body. 2 ton and 4 ton dumps aren't installed it usually, so some users order the customization of Kobo-Lane.
Even though the appearance looks same, the small specifications are different depending the purpose of use. The findings of those differences are very interesting, are't they? If you find other interesting differences, why don't you share with us?
If you have inquiry regarding how to buy, stock availability, etc., please feel free to contact us!
LATEST ARTICLES
CATEGORY
ARCHIVES